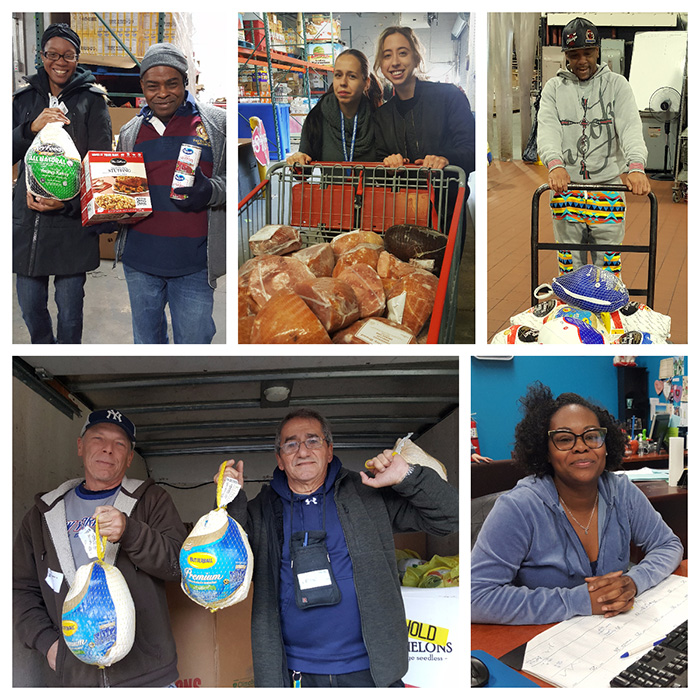 CUMAC wants to ensure that all of our neighbors in need have the Thanksgiving they deserve. That's why our team has been working around the clock to ensure that we can serve all who come our way this week. Last year, our pantry served over 1,000 clients for Thanksgiving and this year has been even busier! Our volunteers have been on the job all week long, packing bags full of groceries and holiday fixings. Meanwhile, our driving team has been back and forth, picking up turkeys!
With so many community members depending on CUMAC to put food on the table this Thanksgiving, we extended our hours this week to give clients as much time as possible to get the resources they need. It's been a very busy few days. We've seen a line outside our building all week and our phones have been ringing nonstop, but our team is committed to serving our community every way possible. Together, we've already provided over 1,300 clients with food and turkeys this week!
We'd like to send a special thank you to all our partners and supporters for giving our clients a reason to smile this holiday. We couldn't do it without you.
A few weeks ago, our staff set out to capture what makes CUMAC so special. So, we teamed up with talented filmmaker, Wendell Alvero, to make a video about how we're feeding people & changing lives. After hours of planning, interviews, filming and editing, we're excited to share it with all of you. Check it out!
Keeping Our Neighbors Warm
Recently Marsha visited CUMAC with her 9 year old son, Bryant after being referred to CUMAC from a nearby agency. The weather had gotten really cold, there were already predictions of snow on TV, and she and her 5 children were all badly in need of winter clothing. Thanks to all of our winter coat donors, we were able to take Marsha and her son to the Community Closet and load them up with everything they needed. Bryant was so sweet helping mom pick out coats for each of his siblings, agreeing that "yeah, the baby would fit in that one" and "mmhmm, Leah will like that pink one." When it came time for Bryant's jacket, we couldn't find anything in his size except a black, fuzzy jacket in a woman's small. Without complaint, the young man looked at mom and said "it's OK, and look—I can roll the sleeves up to make it fit right."
After a few minutes hunting down scarves and hats for each kid, where again Bryant gave final say on what went to each of his brothers and sisters, we found at the bottom of a donation bin a big, downy, blue jacket that was perfect for a 9 year old boy! Bryant's eyes lit up as he exchanged his womens' small for something better suited to him. For all his patience going through donation bins to find clothing for his family, CUMAC staff brought Bryant water and a bag of chips. Like the wonderful brother he was proving himself to be, when he was asked "do you want chips to bring back to your siblings?" his face lit up with a smile and a big nod. Before he left he had big bags of snacks to bring back with him for each brother and sister. Thanks to our amazing donors, the whole family left that day with everything they needed to get through a cold spell and an invitation to come back any time for food, formula, diapers, and clothing.
Want to help families like Bryant's? Consider donating your new or gently used coats to our Community Closet!
Farewell from Leigh
With our former Executive Assistant, Leigh Ross, moving to Washington D.C., she had a few thoughts to share about her time with CUMAC...
Feeding People and Changing Lives. That's exactly what CUMAC does when it serves food to those in need, provides disaster relief, houses the homeless, and in the myriad other ways it serves those in Paterson. What you don't always see is how CUMAC changes the lives of those who work there every day. CUMAC changed my life and took me down a path that has profoundly impacted me and how I walk through this world.
The first few months of working at CUMAC I laughed, cried, and prayed with the people I would work so closely with the four years that followed. I had never encountered such a place, seen the type of work that was being done, and worked alongside, nevermind met, so many compassionate, caring, authentic souls in my life. Black, White, Hispanic, Iraqi, Afghani, Korean, Jamaican, Southern, Yankee, short, tall, young, old, Christian, Muslim, Jewish, …….human.
And after four years, I just walked into a warehouse full of people offering me so much love, so much caring, so much kindness, so much.....CUMAC. It's a unique, special place. I've never encountered such a dusty, sometimes dirty, place that was filled with such beauty and love. I've never seen a big, old warehouse overflow with the warmth that lives in this one.
There are so many moving parts at any given time it seems like chaos, but it's a well-oiled machine. And it's filled with the most amazing individuals who live their lives every day coming to work with their family, because we are family. People here laugh together and cry together, celebrate and grieve together, pray together, dance together, and grow - together.
And people work really damn hard here. They hustle, they serve, they solve problems, they make it work. And they mostly do it with huge, friendly smiles because they love what they do, they love their work, and they love CUMAC...because CUMAC probably changed their life too. That's what it does. It's almost mystical, like a force of nature, whatever lives in this place, in these people. And if that sounds hokey it's only because you haven't visited this place.
I truly pray that if you don't find CUMAC, you find your own CUMAC - that you have the opportunity to see humanity at its best because it's life changing. Hey, look at that...changing lives.
An Afternoon In Our Pantry
A mother walks into our pantry with her young daughter and son the other day. They're tired and haven't had a decent meal in days. After hours of searching for help, the family found their way to CUMAC. We quickly learn that mom lost her job a few months back, and eventually the family had to give up their home. Forced to move from shelter to shelter, they've faced weeks of stress and uncertainty. They need support like never before and fortunately our team is ready to help, and not just with food, but with kindness and love. As their grocery bags are prepared, Jeni, one our team members, gives the children a package of apple slices to snack on. The young boy smiles, his face lighting up in joy with each bite. Our team then brings out food, hygiene products and other essentials for the family. Halloween was just a few days away, so our staff even brought out two costumes for the kids to brighten up their day. The boy wastes no time and immediately puts his costume on right there in the pantry.
For a brief moment, all desperation and concern leaves the room. The mother lets out a huge sigh of relief. "You have no idea how much this means, you made my day" she says with a big smile. "That's what we're here for" says Jeni. "You've always got somewhere you can go." She then refers the family to CUMAC's case manager, where they can get additional support and resources. The mother gives Jeni a big hug, and Jeni invites her to come back soon.
Before the family leaves, the mother stops for a moment, tears in her eyes. "Thank you" she says to Jeni. "It's been a really bad day. This means so much."
No one should have to worry about how they're going to feed their families or how to keep a roof over their head. Sadly, for too many of our neighbors, hunger and homelessness are a constant threat. Luckily, with CUMAC, our neighbors never have to feel like they're alone. Our staff is here, day in and day out, to ensure that families like this one get the care and support they need most. Thank you for making it possible.
CUMAC and the Community Food Coalition
The Passaic County Community Food Coalition (CFC), led by CUMAC and comprised of 18 pantries serving Passaic County residents, met in October to make certain that families in need will have turkey to eat this Thanksgiving along with the traditional Thanksgiving trimmings. The generosity of the Community Food Bank of New Jersey and many private donors will allow hundreds of turkeys to be distributed throughout Passaic County via the coalition members. CUMAC picked up over 200 turkeys from the Food Bank this week and shared them with our partner pantries, who will disburse them to needy families.
In addition to providing food to those in need, the CFC supports advocacy efforts of partner organizations and works to spread awareness of issues facing the population that we serve. Adele La Tourette, the Director of the New Jersey Anti-Hunger Coalition (NJAHC), addressed the Community Food Coalition, at the October meeting, about the possibility that budget cuts in federal funding may result in deep cuts to SNAP (commonly known as food stamps). The Resolution passed by the House of Representatives budget proposes drastic reduction in SNAP aid and although the Senate Resolution does not include direct cuts to welfare programs, it does increase the deficit by $1.5 trillion over 10 years.
Ms. La Tourette spoke about the need to get ahead of the process and to ensure that legislators are aware that, as constituents, we want SNAP to be fully funded. The NJAHC has created a campaign to raise awareness of issues surrounding potential cuts to SNAP and other welfare programs. The CFC will work with the NJAHC to promote the continuation of SNAP without any cuts or caps, so that low income people will continue to have this very important safety net and therefore access to healthy, nutritious food for their families.
The CFC meets 5 to 6 times per year to brainstorm best pantry practices, to organize and conduct food drives to keep food supplies adequate, to share information and resources and to discuss legislation that affects the population that we serve and to advocate on behalf of families struggling with hunger and poverty. CUMAC is proud to be a part of it.
20 Years of HELP
On Tuesday, November 14, friends and supporters joined us for CUMAC's 20th Annual HELP Dinner at The Tides in North Haledon. Together, we celebrated another amazing year of serving our community and shared our vision for CUMAC's future. It was a night to remember, with plenty of great food, stories and prizes. NEC Financial Services was presented with CUMAC's President's Award and Alvin Miller with the Banfield-Coxe for their outstanding efforts and commitment to feeding people and changing lives. Through the support of Al and NEC, CUMAC is reaching more people than ever and we couldn't be more grateful. We'd like to send a big thank you to these wonderful honorees, our sponsors, and everyone who came out to support our work this month!
Scaring Away Hunger
On Sunday, October 29, runners and walkers from around the state came together to run down hunger with us at the 3rd Annual Halloween 5K to Scare Hunger Away! Despite the stormy weather, we had a record number of registrants and, after a rainy start, the skies cleared up for long enough for everyone to enjoy the trick-or-treat stations, photobooth, and costume contest. To make the day even more special, we collected over 900 pounds of food, enough to fill up our van! We also had several runners and walkers representing Team CUMAC at the race. Together, they raised over $5,500 for CUMACs programs. Many of them were completing their first 5K and we couldn't be more proud. Thanks to Barwick Group, Team CUMAC, and everyone who helped make the 5K such a huge success!
Thank you for feeding people & changing lives with us!